Sarah Hass

The award for February goes to Sarah Hass for her maturity, competence, sterling work ethic, ability to interact with individuals from different backgrounds and cultures, and to observe her empathic and pleasant personality. The Truman State University Ronald E. McNair Post-Baccalaureate Achievement Program is a successful program designed to provide underrepresented students with research experience and pre-doctoral preparation to enhance their chances of success in doctoral programs. As the McNair Program Coordinator, Sarah plays one of the most critical roles and contributes daily to the achievements of this program. Sarah, using excellent communication and counseling techniques, has been able to help students formulate a plan to resolve academic and personal problems.She cheerfully worked numerous extra hours each week without extra compensation because the job needed to be accomplished. Sarah is a perfect candidate for this award because she believes in the value the liberal arts and sciences education.
It is with great pleasure that the Points of Excellence Award for February be presented to Sarah Hass.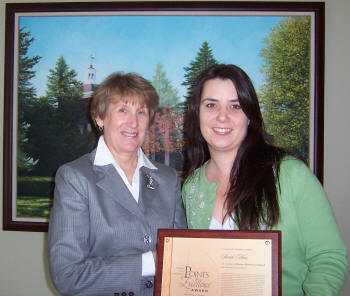 Sarah being presented with the Points of Excellence award by President Dixon on May 8, 2006.
Kelly Freeland

The award for March goes to Kelly Freeland for consistently demonstrated excellence in service to both the Truman and the Kirksville community. Kelly was concerned when she began working at Truman that gynecological services were limited on campus for Truman's women students. She investigated the possibility of providing high quality preventive women's health care services at discounted costs for our students, and now they receive their yearly preventive exams at Truman at discounted rates. Kelly is committed to community service. One of her contributions is through her participation with the United Way. She serves as the Vice President of the Board this year and will be serving as President of the Board next year. She contributes much time & effort to the United Way goals and activities. She also is a member of PEO, a women's philanthropic educational organization. Additionally, Kelly serves as a Girl Scouts leader and a member of the Home & School Association for Mary Immaculate Church, where she provides service to our youth, as well as, providing a ministry of care to the local nursing homes, administering communion and fellowship to the elderly in our community.
It is with great pleasure that the Points of Excellence Award for March be presented to Kelly Freeland.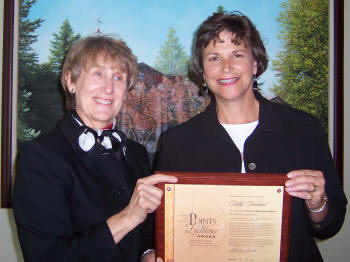 Kelly being presented with the Points of Excellence award by President Dixon on May 10, 2006.
Deanna Rood

The award for April goes to Deanna Rood. She is incredibly conscientious and professional, and holds herself to incredibly high standards in her everyday work, in addition to being a kind, generous and loving coworker. Deanna has the constant pressure of deadlines for the Truman Review, but is always pleasant and extremely professional. She is an amazing writer who brings stories to life. She worries about every detail in the Truman Review, as well as the overall impression that the magazine will make. Her work with the Review often forces her to rely on others for information, which is a pressure as well. Even with her constant and steady workload, Deanna is quick to respond if she is asked for assistance. Many depend upon her often for her editing skills and attention to detail.
Deanna also contributes profiles for the President's Report, edits and maintains the website for the Foundation and sends out alumni and parent e-mail newsletters. She is often called upon to create special brochures for the Advancement office. Despite her enormous workload, she never complains, and never loses her focus or her sense of humor. The results of Deanna's work are some outstanding publications that the University can be very proud of. She gives more than 100% on every assignment and makes sure all of her projects are done on time, and the end results are more than impressive. She is often the last person to leave the office. Deanna works with many people on and off campus to help the Advancement office to be a success. She often interviews alumni for publications she is working on and immediately puts people at ease. She has great ideas for making our publications even better and is always looking for new things to try.
It is with great pleasure that the Points of Excellence Award for April be presented to Deanna Rood.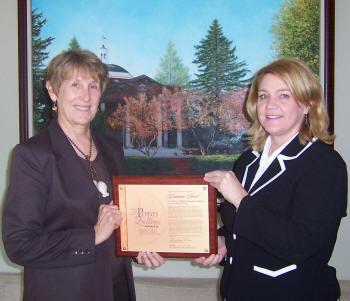 Deanna being presented the award by President Dixon on June 8, 2006.