Christina Davis

The Points of Excellence award for January goes to Christina Davis, Registered Nurse working in the Student Health Center. Christina cheerfully goes above and beyond the expected job responsibilities and has a deep commitment to the education of future generations of health care providers. She has high expectations of students but interacts with them in a gentle and patient manner, assisting them in developing their self confidence as health care providers. Here are a few comments one staff member has to say about her, "..In the past, a number of students have been unable to successfully manage their chronic conditions such as diabetes or depression simply because they could not afford to regularly purchase the necessary medications or supplies. Many students have no insurance coverage. Christina took the initiative to research medication assistance programs for students. She assists students with the application process for these programs and now many of our students receive their medications or supplies absolutely free of charge."
Another had this to say, "Christina also identified dispensing of oral contraceptives as an area that needed improvement within the Student Health Center and designed a computer program that virtually eliminated the possibility of errors. This customized system has streamlined the procedure, simplified the process, made the job easier for student workers, and greatly decreased the potential area of liability for the Student Health Center; as a side benefit, the automated information provides students the current status of their annual women's health exam and their prescription status. Christina is one of the most responsible and dedicated employees that I have ever known. She is committed to excellence in the performance of her job…"
It is with great pleasure that the Points of Excellence Award for January be presented to Christina Davis.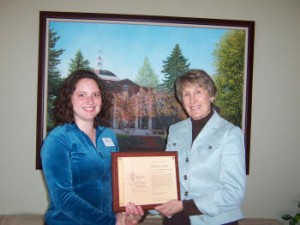 Christina being presented the award by President Dixon on March 23, 2007.
Howard Worcester
The Points of Excellence award is presented to Howard Worcester, Recycling Center Coordinator, for excellence in work as recognized by several members of Student Affairs. Sue Limestall, director of the Student Recreation Center, had this to say about his performance, "Howard Worcester provides excellent service to the Student Recreation Center by regularly, without fail, and always with a smile on his face, picking up the recyclables we have accumulated for him. When we have had extra cardboard due to a mid-week delivery, he responds positively to our request for an extra pick-up and sees that it is done. Compared to where Truman was 10 years with its recycling efforts, Howard deserves an A+ for turning around the mindset of throwing most everything away." Howard Worcester is very devoted to the recycling efforts on campus, and has been an excellent mentor to so many students. His dedication to the students is apparent when he removes much of the recycling at times when it is least disruptive to students or our jobs, which shows his true example of servant leadership. Brian Krylowicz, Director of University Counseling Services, had this to say about Howard's customer service. "Howard is extremely respectful when he comes to our office – always putting the needs of students first, always making sure that it's a convenient time. He truly understands the meaning of customer service and putting the "customer" first, whether that customer is a Truman student or an office on campus. He exemplifies Truman's caring community values." And finally, from the Student Health Center, Brenda Higgins had this to say, "Howard Worcester is conscientious and caring when it comes to carrying out his responsibilities in the Recycling Program at Truman. Because Howard is acutely aware that the services provided at the Student Health Center are of a confidential nature, he makes a special effort to collect the Health Center's recycling prior to the open office hours for student services. On the occasion that our recycling bins are overflowing due to the arrival of large supply orders, Howard and his student staff immediately respond to any call from our office to pick up the recycling early. He is always cheerful and responsive to any needs or requests of our staff." Howard is committed to excellence in the performance of his job. It is with great pleasure that the Points of Excellence Award for September 2007 be presented to Howard Worcester.