Greg Marshall
The Points of Excellence award for January goes to Greg Marshall, web services, Information Technology Services.
Greg has worked diligently in developing a new I-Clearances and Student Timecards and placing the program online. This innovative program and approach has received great reviews by students reducing the time using the manual card system. When changes or revisions are needed that will further enhance the product or make it easier to use for staff and students, Greg will pursue those changes with a positive attitude until the changes have be made. This "can do" attitude has been experienced by numerous staff members on campus. His constant, determined, and remarkable skills were instrumental to his unquestionable success in this program. The payroll office has heard positive comments concerning the on-line program making record management and payment of student checks a breeze.
Greg was instrumental in working with Human Resources to provide the on-line enrollment for health, dental and vision insurance for the faculty and staff for 2007-2008. When revisions were required to the product, he constantly sought out new avenues for providing better services. One faculty member had this to say, "The enrollment process this year is smoother than it has ever been. I completed it very quickly with little or no effort."
We are extremely fortunate to have Greg Marshall at Truman State University. His meticulous attention to detail is truly an example for all to emulate. It is with great pleasure that the Points of Excellence Award for January be presented to Greg Marshall.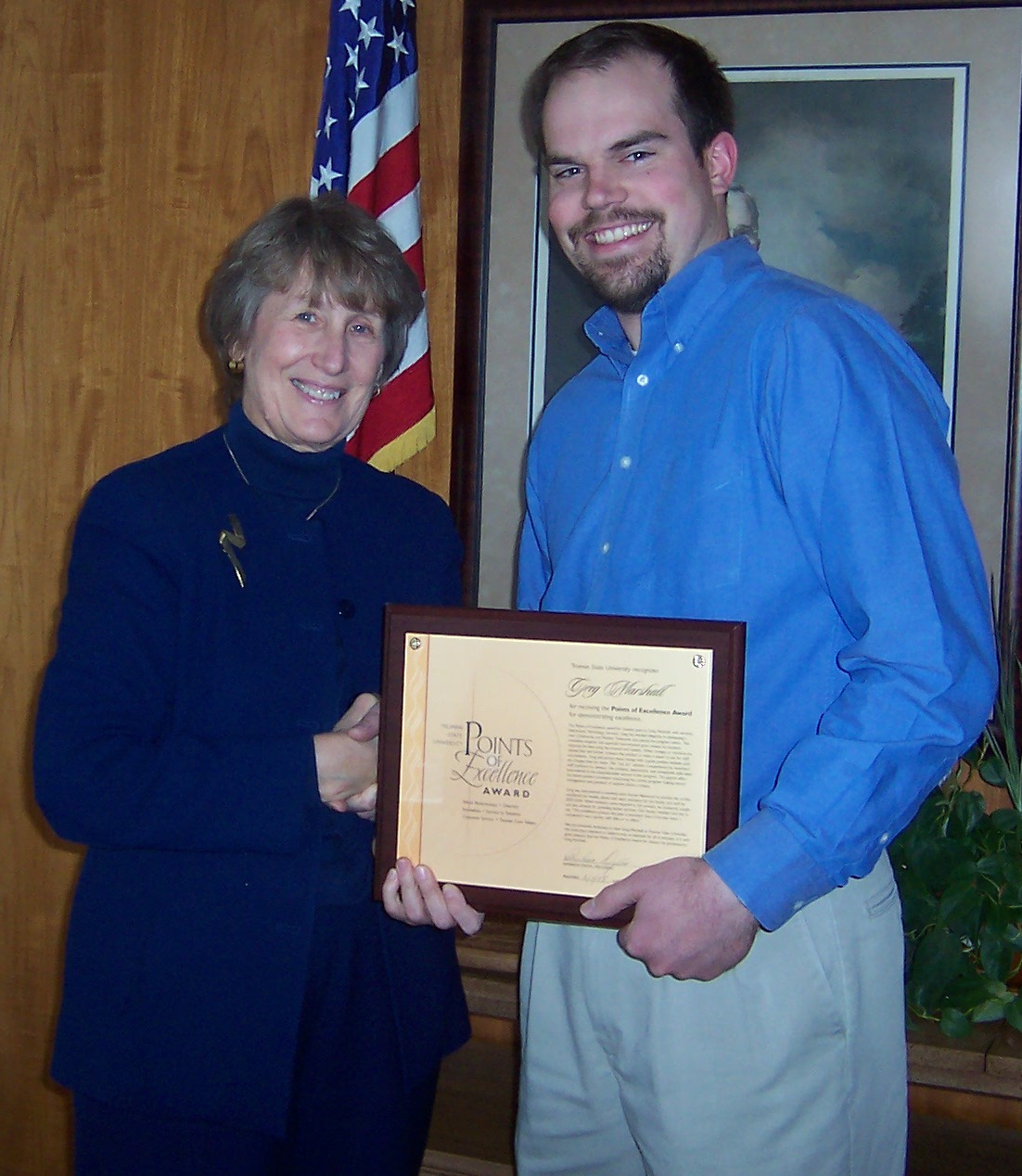 Harold Reeves
The Points of Excellence award for April goes to Harold Reeves, Mover, for the Physical Plant Department. Harold's outstanding attribute is his resourcefulness and is extremely trustworthy when called upon to provide assistance. Whatever the task, he arrives ready with a smile on his face and the fortitude to see it through. Although he is just one individual with a small crew of student workers, he accomplishes the job of coordinating the moves for the University community in a timely, courteous and exceptional manner. Particularly noteworthy is his energetic approach to mentoring his student workers, as well as, his tenacious approach to training ensuring the jobs are accomplished correctly and safely. Harold instills a healthy work ethic and a sense of respect for them and those around them. Always displaying a high spirit of cooperation, willingness and attentiveness to duty, Harold inspires teamwork and unquestionable success in his area. Harold demonstrates the same kindness toward the general public and frequently goes "above and beyond" to assist in the completion of the project whether on or off campus. It is this willingness to serve others with a positive attitude and the act of stepping above the norm that defines the nature of an exemplary employee and individual. It is with great pleasure that the Points of Excellence Award for April be presented to Harold Reeves.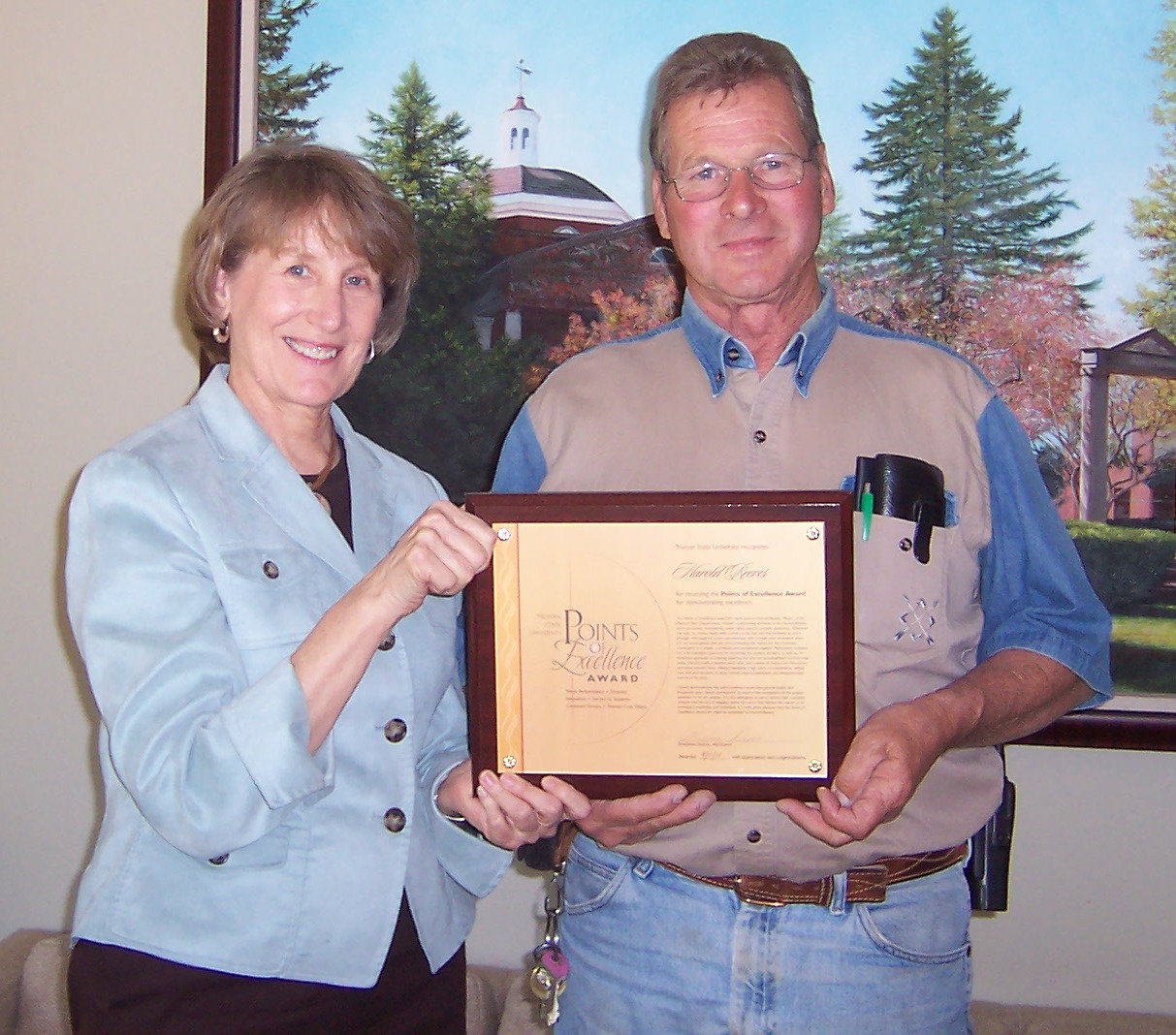 Lois Dover
The Points of Excellence award for June goes to Lois Dover, Purchasing agent for the Business Office. Lois has often been referred to as Truman's quiet and modest "hero". The other day, Lois received a phone call from a new employee who had been told that if anyone on campus could assist him, it was Lois. At a very busy time, she stopped and pulled the information from her files to answer his questions. In daily conversations with members of the Truman community, Lois has been described using the following: professional, honest and ethical, calm under pressure, kind and caring, pleasant to all, excellent negotiator with vendors, accurate, with a healthy dose of common sense.
Lois has been the president of Missouri's Association of Public Purchasing and uses the networking from the group to help Truman get better pricing and faster delivery. For example, by tapping into the University of Missouri contracts, the University can avoid bidding certain items that have already been bid at Mizzou, thus taking advantage of the lower prices that we would not be able to achieve alone. She fully understands the setting a tone of honest and ethical behavior in Purchasing is critical to maintaining a level playing field with the vendors that we rely on for our goods and supplies. Lois understands and follows state of Missouri laws and regulations as well as Truman board policies. She follows ethical conduct herself and sets a high standard for all to emulate. For thirty years, Lois has gone "above and beyond" for Truman State University. It is with great pleasure that the Points of Excellence Award for June be presented to Lois Dover.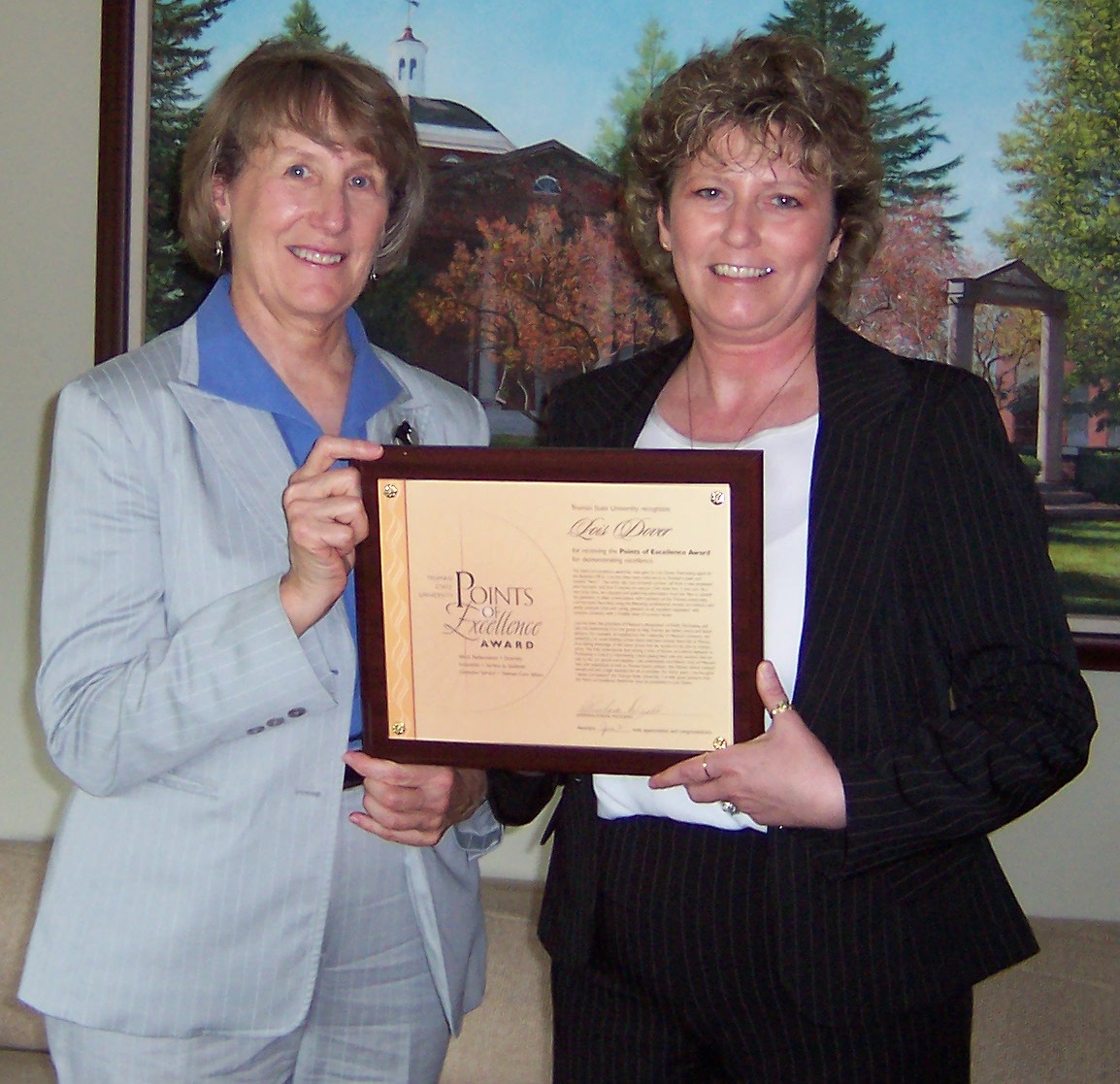 Leslie Motter and Lena Reardon
The Points of Excellence award for July is a joint presentation. This joint award is presented to Leslie Motter and Lena Reardon who work in the Circulation Department at Pickler Memorial Library. With just six weeks remaining until the end of the semester, the night supervisor resigned her position leaving a very critical position vacant. This service is important in ensuring the services are continued in the evening hours at the end of the semester. During the last two weeks of the semester that doors are open to 2:00 AM. It was not possible to hire and train someone to take over the position in that time. Leslie and Lena volunteered their expertise and alternated the night shifts thus providing continuous coverage for the night supervisor position. Both Leslie and Lena worked the Circulation Department during normal operational hours, and then returned in the evening to work until 1:00 AM – 2:00 AM. This effort substantially supported the overall mission of the Library during a very critical time. Both are committed to finding solutions to difficult situations, and continue to work through the problem until it has been resolved. Both are committed to excellence in the performance of their jobs. Both displayed exceptional leadership, professional competence and unusual devotion to duty and teamwork in handling a very tense period for the Library. It is with great pleasure that the Points of Excellence Award be presented jointly to Leslie Motter and Lena Reardon.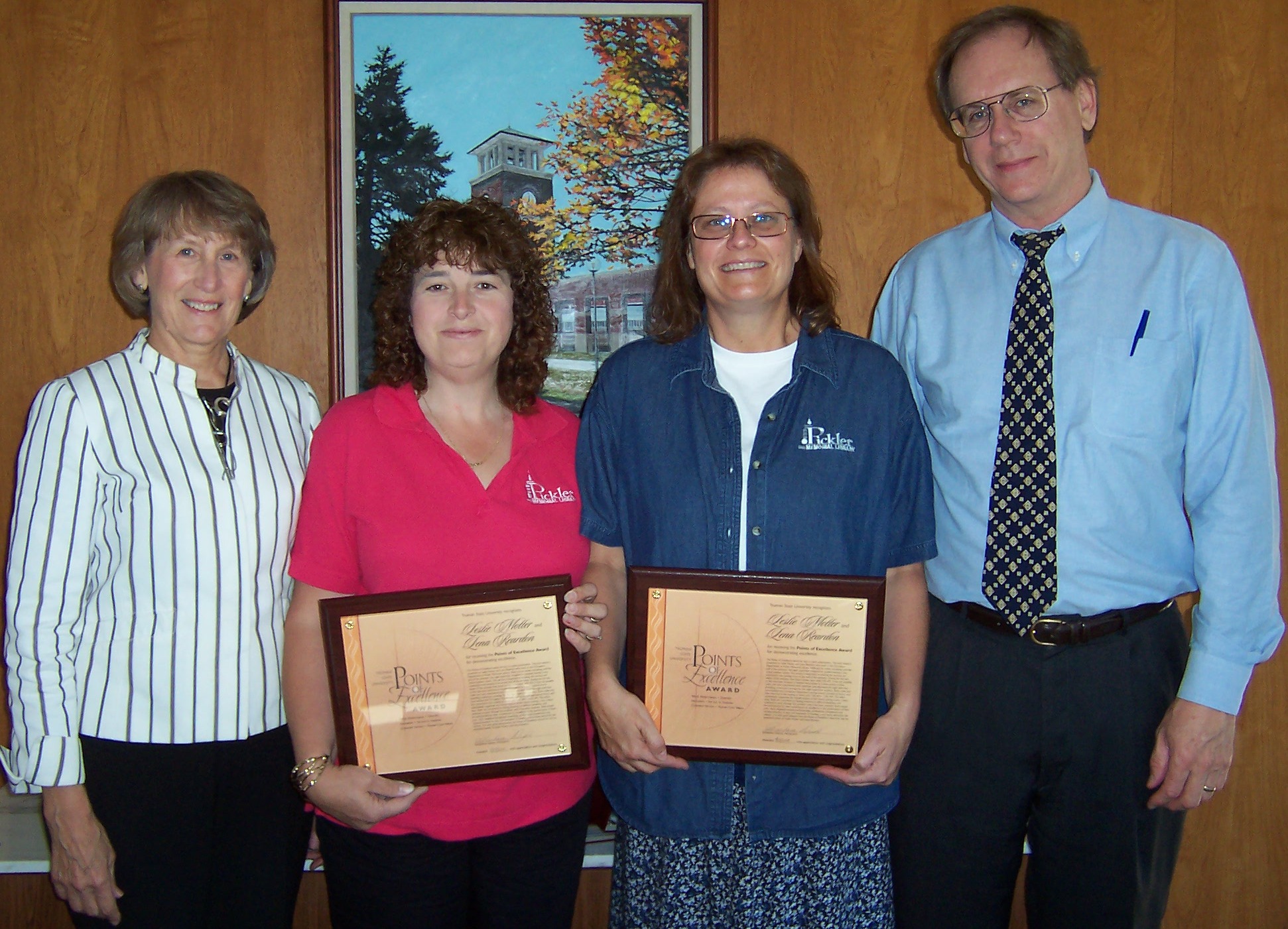 Mike Rechtien
The Points of Excellence award for August goes to Mike Rechtien, who finished his first year of Information Technology Services stationed at Barnett Hall. One faculty member provided the following comments, "I think it is safe to say many of faculty and staff at Barnett agrees that Mike's presence has been one of the most beneficial aspects of the recent remodeling of the building. His expertise in computer and classroom technology support and service combined with his genuine concern for the experience students (and faculty) have with technology in the classroom setting make Mike an invaluable asset to the learning that goes on here at Truman State University". Mike repeatedly demonstrates his enthusiasm for information technology, whether it is through advocating for updates, prompt installation of newly acquired technologies, or his willingness to help troubleshoot challenges that faculty and staff encounter along the way. A faculty member had this to say, "Mike shows up with a smile on his face and a 'can-do' attitude. I never feel like I have a dumb questions or a stupid request. Frequently Mike fixes a problem and suggests 'new & improved' or streamlined solutions for software, hardware, and word processing".
Another faculty member had this to say, "I remember hearing Dr. Garry Gordon speak during his welcoming comments at last year's University Conference about the important roll that faculty and staff play in role modeling for students the provision of concern and respect for all members of the Truman community, from the student to the teacher to the secretary to the maintenance crew and beyond". Mike conducts himself in a kind and professional manner with each and every individual with whom he comes in contact, making him a true point of excellence at Truman State University. It is with great pleasure that the Points of Excellence Award for August be presented to Mike Rechtien.