Steve Peeler – Work Performance
Steve has served for 16 years at Truman. His efforts exceed far beyond his job title to improve and maintain the Mechanical Systems for better environments for Truman students. 2015-16 has been a big year for major Mechanical Systems improvements and replacement. He has spent countless hours going over Mechanical and Control Systems drawings to ensure that they are good and compatible with Truman's systems. Steve provides engineering advice on major systems, including air handlers, steam distribution, boilers, and plumbing. On a daily basis, he orders parts and maintains the campus buildings' computerized control systems and mechanical systems. Steve regularly supports his fellow workers and gives his knowledge freely.
Heidi Templeton – Truman Values
Heidi works tirelessly to and for Truman. She is the first person to help anyone with any project and jumps in to do what needs to be done, not just what tasks she prefers to do. She is on call to Truman 24/7 and is always a face for the University. She is so caring and kind to students, faculty, staff, parents and the community. She has a deep-seated love for the University and truly cares! During Homecoming weekend, she showed up early on Friday and Saturday and helped until we were the last to leave. Everyone else dumped supplies and boxes in the offices and Heidi stayed to help me organize, sort and clean up. This was only two weeks following Parents Weekend, which she handles by herself with support from Travis, Deanna and a few students.
Tim Barcus – Work Performance
We would like to nominate Tim Barcus, Campus Photographer, for a Points of Excellence award. In particular, we would like to recognize him for his willingness to help, his kindness and flexibility, and his skills at putting others at ease. The quality of the photographic work he produces is very high and he carries that out, day in and day out, in challenging situations with a great deal of excitement and enjoyment. He is open and willing to share his work. We think he makes an excellent candidate for a Points of Excellence award and hope his nomination is considered very seriously indeed.
Ryan Miller – Work Performance
Ryan Miller embodies everything one should expect and hope for in an employee at Truman. Her years of experience in the professional/non-profit world, as well as being an alum from this institution, has lent itself well to exemplary work in her current role with McNair. She has unwavering support for the success of students, is innovative in thinking about ways to continue to improve the program to serve more students, and has been a great deal of help in my process of acculturating to the Truman environment. She also has a level of knowledge about diversity that seems to be rare in many spaces, which is comforting for me as a staff member of color. I wish I could nominate her for every point of excellence, because in some fashion, I think she fits all of them well.
While Ryan works for McNair, she is always willing to help all students, staff, and faculty. Ryan does all things with a small and a hearty yes. She is an incredible addition to McNair and she makes the office environment bright and pleasant.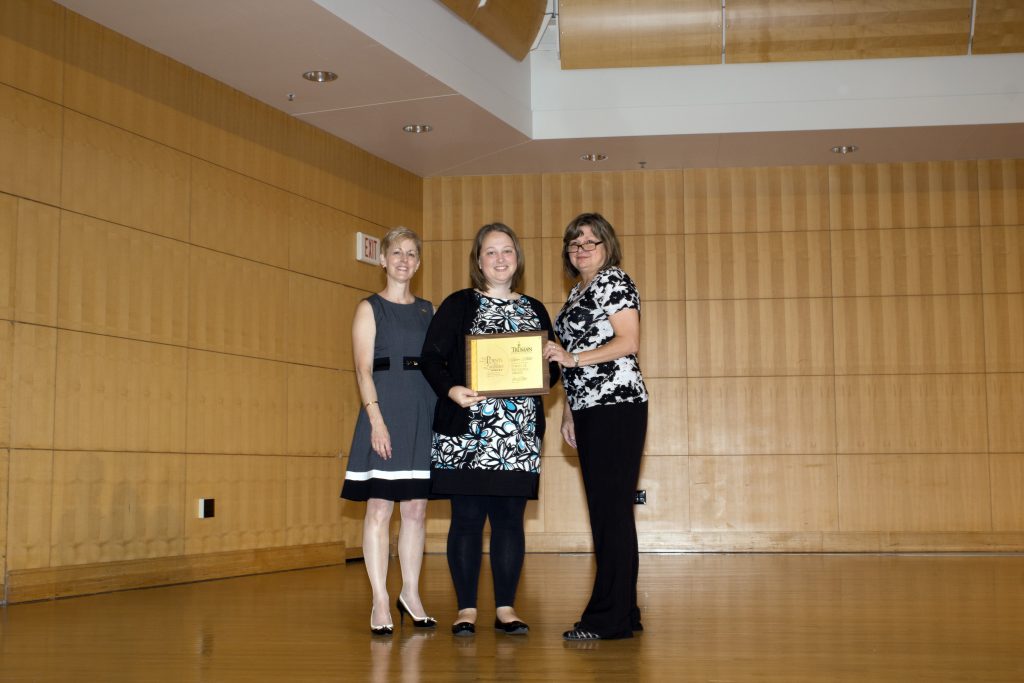 Brad Chambers – Innovation
Brad Chamber's work as Truman's Planned Giving Officer helps secure the future for Truman State University. Along with his colleagues in Advancement, Brad has partnered with alumni and friends to grow the planned giving program, adding over $25 million to the Truman Foundation since 2008. Over $2.5 million has been added this fiscal year alone. All of these resources provide students and Truman State University with a greater foundation for the future. In addition, Brad has played a key role in initiating, proposing, planning, and shaping several new projects and events through the Advancement Office. In September of 2015, Brad and his team developed the Tru Hero Project, which is designed to recognize students and alumni who assume heroic roles, either by choice or necessity. Dan Sem became the inaugural recipient of the Tru Hero Award for his role in relief efforts during the 7.8-magnitude earthquake that struck Nepal in April 2015. Sem Provided food, water, shelter and tools to rebuild the most affected and remote communities that they could enter, helping thousands of people. In March, Brad partnered with The Art and Science of Inclusivity Incentive Program to bring alumnus Alphonso Jackson to campus. Jackson was appointed as the 13th Secretary of the U.S. Department of Housing and Urban Development (HUD). Following the film, "Selma," which chronicles Martin Luther King's campaign to secure equal voting rights via an epic march from Selma to Montgomery, AL, Alphonso Jackson shared his story as someone who took part in the march. The event concluded with a thoughtful round table discussion on diversity. In addition to the examples above, Brad's work on such projects as the White House Internship Program, the Missouri Government Internship program, the Pershing Scholarship Endowment and the Thanks-A-Million Dr. McClain campaign, has made him an invaluable member of the Advancement team. In observation of these examples and many more I haven't mentioned, I feel Brad Chambers would be a worthy candidate for the Points of Excellence Award in Innovation.
Bill Kuntz – Service to Students
Bill Kuntz has served as University Farm Manager since 2005. Among many dedicated Truman employees, he is probably the hardest-working individual that I know. There are many reasons that Bill is deserving of the Points of Excellence Award, but the ones that first spring to mind are exemplary work performance and service to students. The responsibilities of the Farm Manager have expanded greatly in the time since Bill began his work in this role. Several new programs have been added to the Farm and/or Agricultural Science department, some at Bill's initiative, that have added to his work load and managerial scope. The Bulldog Biodiesel program, which recycles waste vegetable oil into fuel, is still in operation solely because of the organizational skills and dedication that Bill has devoted to the program since assuming responsibility for it in (approximately) 2010. The Farm-to-School program has been responsible for bringing fresh produce to campus dining halls and to an on-campus farmer's market. Bill has worked with the program since its inception in 2011, and has assumed nearly sole responsibility for its continuation in the past year. This has meant countless additional hours cultivating, planting, and harvesting specialty crops as well as ensuring safe storage and delivery of the produce and management of students involved in various aspects of these tasks. Countless numbers of local elementary students and other community members have experienced contact with nature and agriculture through tours of the University Farm, coordinated by Bill. All of these new responsibilities have been additions to the already substantial workload of his position, which included planting and tending of field crops; feeding, care, and management of horses and cattle; pasture management; fence and facility construction, maintenance, and repair; orchard and vineyard management; and forage establishment and harvest. A recent farm visitor, from Lincoln University, asked, "Well, who is your horse person? Who is your cattle person? Who takes care of the vineyard? Who oversees the Farm-to-School program?" and was surprised to hear in each case the same answer: "Bill Kuntz!" In addition to performance of these job-specific duties, Bill is an outstanding mentor to many students. He supervises a work crew of students each semester and is the primary liaison with the student residents of Farm Hall – the individuals who form the base chore crew at the Farm in return for their housing in the Farm duplex. Over time, Bill becomes, for many of these students, not merely a job supervisor, but a role model and even a friend. I can recall several times in the past couple of years when Bill has mentioned, in casual conversation, that he was leaving for the weekend to attend the wedding of a former student or perhaps even the funeral of a former student's parent. Bill is an indispensable part of the University. As a faculty member within Agricultural Science, I know that many of our classes and laboratories could not function effectively without his selfless dedication to his work at the University Farm, and I consider him very much a valued colleague within our department. For these reasons, as well as the exemplary work performance and student mentorship noted above, I would like to nominate Bill Kuntz for the Points of Excellence Award.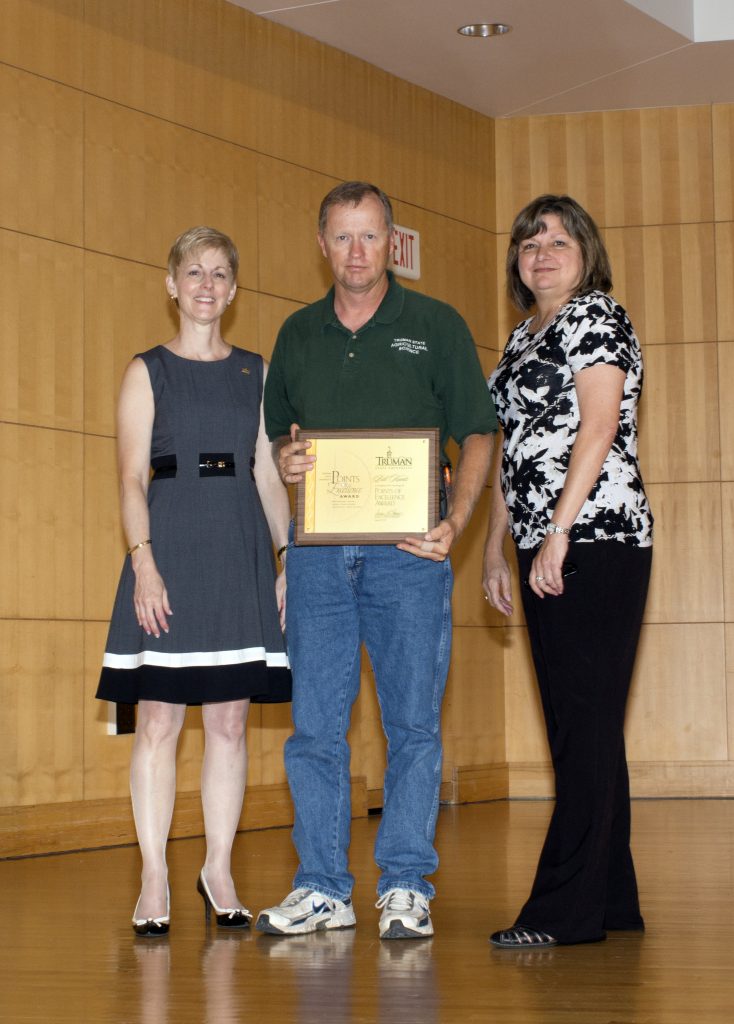 Donna Fude – Truman Values
Donna Fude embodies each and every point of excellence that is recognized by the Points of Excellence award. I can think of no one more deserving of recognition for her exemplary work ethic, commitment to the success of underserved students, advancement of diversity, and positive promotion of the University. This May, she celebrated her 30th year of employment, and acknowledgement of her contributions is past due. She is our mentor, technology guru, voice of reason, confidant, and sometimes mother, always kind and unfailingly competent. She tirelessly works to advocate for and advance the futures of the underrepresented students we serve in her role with Upward Bound. Organized and empathetic, she has the answer to any question you may want to ask, whether it is about a complicated federal regulation that governs program management or about why your green beans aren't growing. Donna graduated from Truman State University (then NMSU) and has continued to promote the value of a liberal arts and science education throughout her life by helping area high school students realize their own college dreams, even when no one else saw the potential in these students.
Donna has served Truman for many years as Office Manager for Upward Bound. Donna has an impeccable grasp over all the details that make a department run smoothly, but that description only scratches the surface of her value to the Truman. Donna's ability to handle myriad details of a complex program makes her an excellent employee, but it is her love for young people from diverse backgrounds that make her worthy of a Points of Excellence Award. In her role of supervising Truman students, Donna always made a point to get to know them and show interest in their ambitions and struggles. She is part of the reason that working for Upward Bound is such a great transformative experience for Truman students. Donna is a great problem solver and a go-to person to find a solution to the many little issues that come up when you put 60 teenagers on a college campus for six weeks. In a crisis, Donna's calm and supportive demeanor helped everyone deal with the issues at hand. Her days always start and end with a smile for everyone, with much laughter and kind words in between. If I had only one word to describe Donna, it would be compassion. She shows compassion for the Upward Bound students she serves, compassion for students finding their purpose in life, and compassion for her coworkers. Truman is a better place because Donna has chosen to work here, and Northeast Missouri is a better place because Donna calls it her home.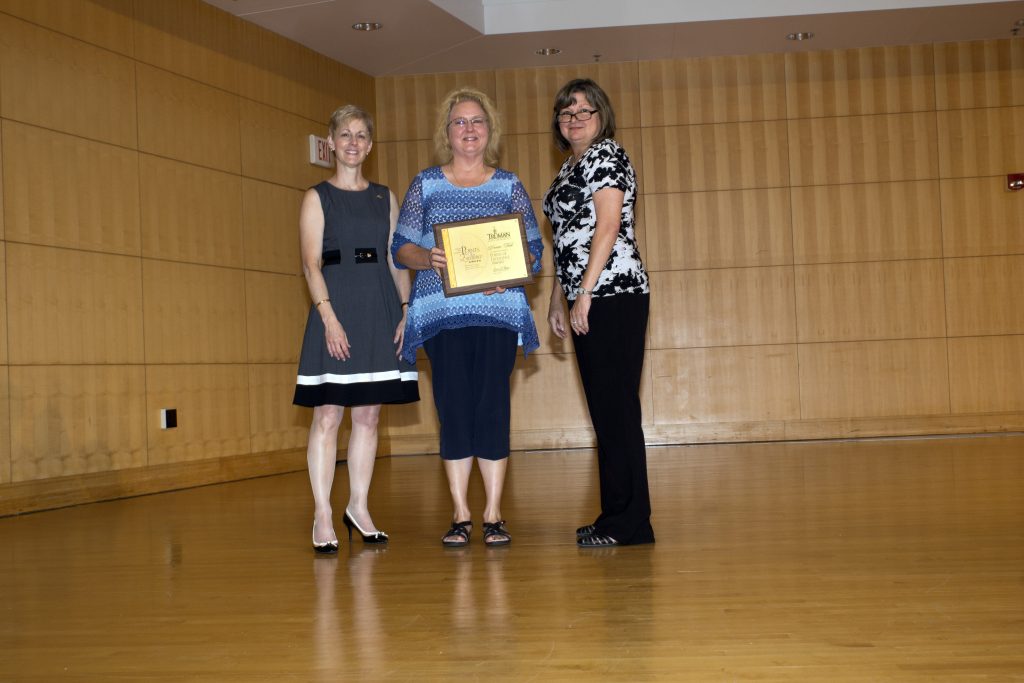 Tim Baker – Service to Students
Tim Baker is long overdue for recognition of his extraordinary service to the students in our JINS Course on Leonardo DaVinci during the Spring 2015 Semester. In fact, this service to the students in one course became a service to the entire campus community due to the public nature of the final product of our work together – and Mr. Baker was instrumental in making that public aspect occur. Without his understanding of campus procedures the wider community would never have enjoyed the fruits of our labor. For that semester we sought someone who could balance out our own skills (focused in the arts) by providing insight into the significance of Leonardo's efforts in engineering. Tim Baker proved to be the perfect candidate for this role – sharing his own remarkable background working with the Department of Defense and NASA – his love of Leonardo's great genius in all things mechanical, and his irreplaceable aid in helping us to construct a bridge on the quad according to the original designs of Leonardo da Vinci. He and his wife even welcomed the class to their home, donated lumber from their land, and in many other ways carried the burden of this project from beginning to end. That bridge we constructed came to symbolize everything our JINS course stood for – with collaboration across disciplines being natural to, rather than against, the grain of the spirit of inquiry we support at Truman. The actual bridge became a metaphorical bridge for inter-disciplinarity. Furthermore, all of this service was provided in an unfailingly cheerful and positive manner that energized the class and made our time with the students among our favorite Truman memories.