The latest news from the Human Resources Office
April 26, 2018
New Member Induction and Staff Council Elections will be May 29 at 12:15 p.m. in Violette Hall 2451.
The Council represents the interests of university staff and works to improve the university community in general. Staff who are interested in serving on the Council should send an expression of interest via e-mail, campus mail or dropping off a note at the Human Resources Office in McClain Hall 101.
If you have any questions about the Staff Council, you may contact the current chair Ryan Miller (ryanm@truman.edu). The Staff Council web page can be found here: http://wp-internal.truman.edu/staffcouncil/
Meetings are currently held once a month starting at 12:15 in VH 2451. There will be open positions in every area of the university. Please consider serving!
______________________________________________________________________________
April 23, 2018
Staff Council has announced its annual staff social for Reading Day, May 9, from 1 to 4 p.m., in the Sunken Garden. Hope you can make it!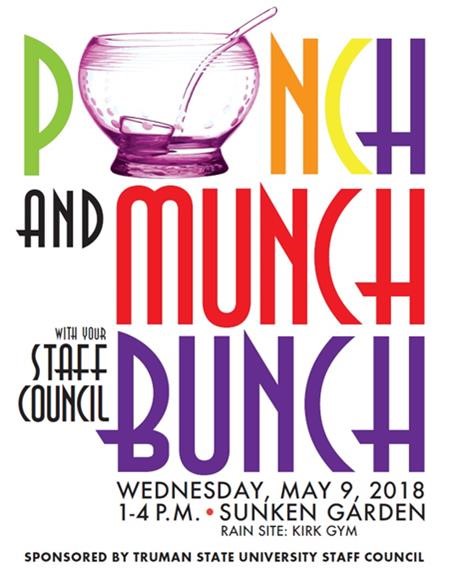 ______________________________________________________________________________
March 14, 2018
In light of the recent changes to the 2018 IRS code and as employees have filed their 2017 income taxes, questions have come up regarding tax withholdings and whether employees need to update their W-4 forms. Here is some information to consider:
Since you last filed a form W-4 with the University did you:
Marry or divorce?
Gain or lose a dependent?
Change your name?
Or were there major changes to:
Your nonwage income (interest, dividends, capital gains, etc.)?
Your family wage income (you or your spouse started or ended a job)?
Your itemized deductions?
Your tax credits?
If you can answer "YES" to any of the questions above, or if you owed extra tax when you filed your last return, you may consider filing a new Form W-4.
With the recent changes to 2018 IRS code, now is a great time to review your W-4 allowances and/or exemptions.  Log on to the Withholding Calculator at https://www.irs.gov/individuals/irs-withholding-calculator to assist you in your review.  A calculator for the State of Missouri can be found here: https://www.taxformcalculator.com/state_tax/missouri.html.
If you would like to make any changes to your W-4, please visit the Human Resources Office in McClain Hall, Room 101, to complete a new form.
__________________________________________________________________________
March 9, 2018
A representative from TIAA-CREF will be on campus for appointments from 8 a.m. to 4:30 p.m. on Friday, April 13, in the conference room outside the Human Resources Office. Registration is required and can be made through www.TIAA.org/schedulenow.
Click here for more information.
**UPDATE** These slots are now full. TIAA-CREF is scheduled to return to campus on August 30. To find out more about TIAA-CREF, you can email Melvin.Ballenger@tiaa.org or call the enrollment team at 800-842-2252.